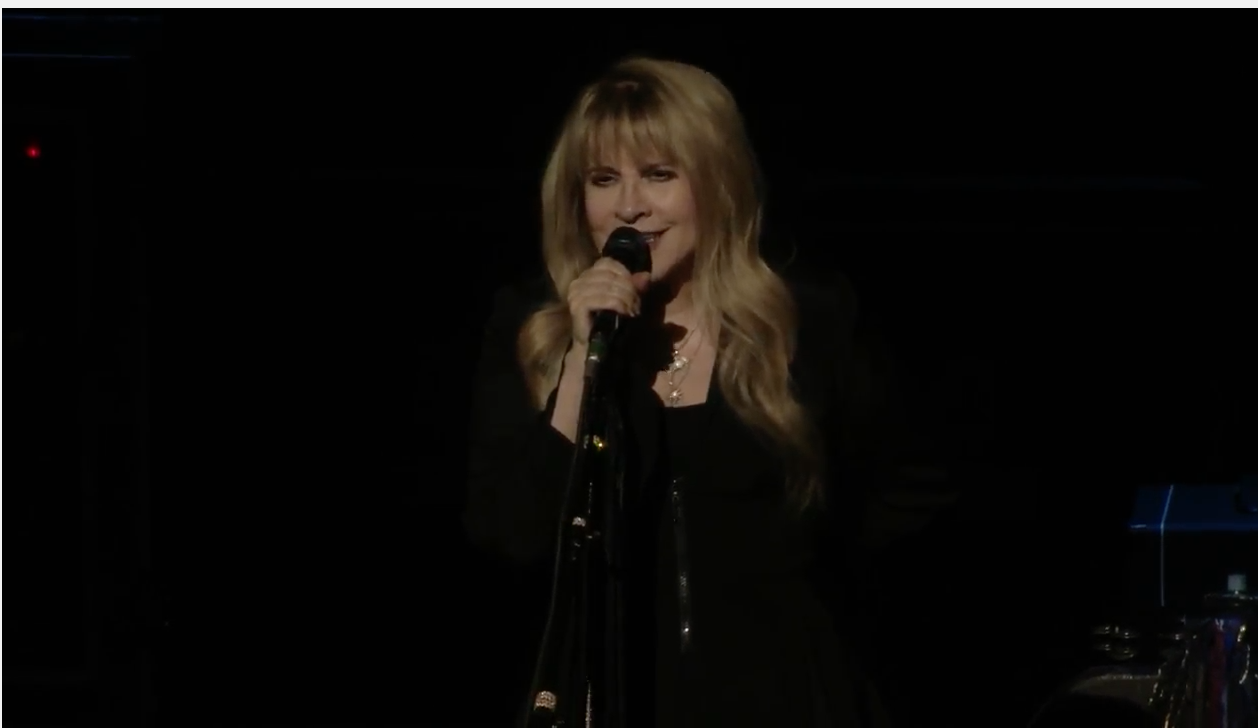 "To love someone is to listen to the song in their heart and sing it back to them when they have forgotten it." 
                                                       Arne Gorborg 
This is what Stevie Nicks did for me early in 2015. 
My husband has been on tour with Fleetwood Mac for about three years now as their Lighting Director.  We had arranged a visit with each other in my older brother's hometown where our little ones could play and the adults could come together for a long overdue family visit. My loving man--fully aware and always supportive of my passion for songwriting, songwriters, lyrics, lyricists and all things mystical and wild--had arranged a private meet-and-greet for me with the divine Ms. Stevie Nicks. 
I entered the inviting, silk-draped lair that is her dressing room to find her surrounded by loving friends and her adorable little dogs. We spoke as the gold dust beauty prepared to head out on stage for a performance with Fleetwood Mac in the 21, 000 seat home to the Montreal Canadiens, the Bell Center. 
She greeted me casually and warmly and made it very comfortable for me to get "real" with her immediately. I asked her about her songwriting process, her dogs and her why. What was the reason she continued to create? I told her about my experiences as a singer-songwriter and a music teacher and my hiatus from it all as a Stay-At-Home Mom. I explained how each profession had brought me artistic satisfaction in different ways but that I was never quite sure of my why. Why, do we as artists, spend so much of our time and resources pursuing this nagging voice inside? 
We spoke of our many artistic pursuits. Stevie's face lit up as she told me about her dogs, her eyes became bright with enthusiasm telling me a story about the artist who created her hand-crafted boots for the stage.  We discussed a beautiful doll she acquired that holds her jewelry and the little shop she had purchased it from. We talked about the long hiatus she had taken in her pursuit of health and recovery and the emotional emptiness she experienced when the creativity was gone. She told me about her love of writing prose and her conscious decision against formal piano training after having the freedom to do things her own way. She admonished, "Sharon, if you have rules, you have rules. No rules."  And she told me about her why. 
She gazed at me with ageless wisdom and explained that the world, especially now, needs artists.  Artists reflect back to the world what they are already feeling, we soothe, we inspire and we give people hope. The world needs this more than ever right now. 
When Stevie began to speak--my paraphrased version of her words--about her why, there was a palpable energetic shift in the room and I felt it. Her words went deep but her meaning went much deeper than I would understand until some time later. As we wrapped up our time together I headed for the hallway to watch the show and Stevie called after me to say, "Do you know Carly Rae Jepson who wrote 'Call Me Maybe'? You are going to write the next 'Call Me Maybe'." "Yes," I said. 
Later in the evening during the fabulous reunion concert with all five original members of the band, Stevie paused and dedicated the song "Landslide" to me and reminded one more time to create without rules in front of a sold-out house of adoring fans. I stood up and listened to the Queen of Rock sing THAT incredible song to me and bawled like a baby for the entire duration.  It was an exquisite moment that I will never take for granted and it began a tidal wave of writing that I could not hold back if I tried. 
The four songs that I am preparing to record, came from the depths of my soul and were inspired by this incredible experience that is difficult to sum up in words but if you asked the friends and family of mine who were in attendance that night, they would tell you I was glowing. 
Please watch the video of the "Landslide" dedication and the performance here.  Listen until the end because she reiterates her advice again when she's finished singing! 
Thank you so much for all of your contributions and support for artists like me who are bringing reflection, hope, inspiration and helping to soothe the world with their willingness to be transparent and share what's in their hearts. 
Please share this link and this story with your friends and family and ask them to share it too! It will take a crowd to make these recordings happen and bring these songs to the world. We cannot do it without you!! 
With love, 
Sharon